Getting Chummy With The Keys Snapper Trio
One of the greatest aspects of the Florida Keys is the sheer diversity of species. No doubt, the billfish, tuna, wahoo, dolphin and sharks get plenty of well-deserved attention, but Capt. Jack Carlson of the Marathon-based Two Conchs Sportfishing points to the area's stellar snapper fishing.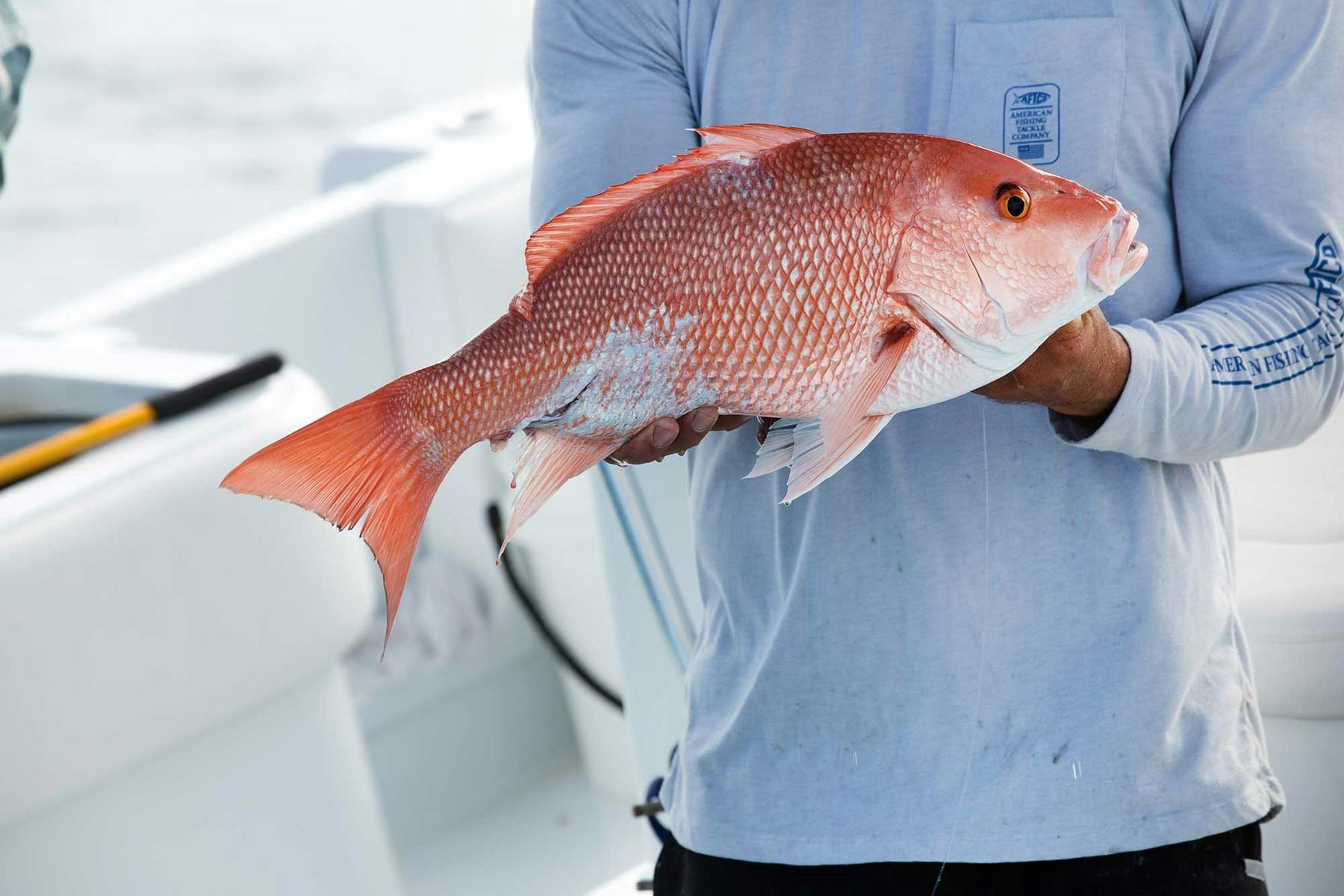 "It's definitely going to rank in the top-3, because anybody that wants good family action, good eating fish and quantity with quality; reef fishing for snapper is a great option," Carlson said. "It's a real crowd pleaser that you can fish in various depths of water."
Noting that Keys snapper fishing excels during the summer spawning months, Carlson says this user-friendly pursuit can be productive year-round, especially with his favored technique — chumming. Anchoring upcurrent of a reef and dispersing a pungent mixture of oats and menhaden oil toward the bottom structure stimulates a mix of yellowtail, mangrove and mutton snapper into full-blown feeding mode.
Here's how Carlson leverages this aggression.
Yellowtail
The smallest of the snapper trio, the beautifully colored yellowtail are cooperative enough to rise within a couple feet of the surface; but they're notoriously spooky when they get there. As Carlson explains, the key to getting bites is to drift a bait into the chum slick at just the right pace so yellowtail mistake it for a piece of the chum they're gobbling.
Using medium spinning tackle with 3 feet of 20-pound TuffLine fluorocarbon attached to 20-pound TuffLine braid with a double uni knot, Carlson rigs a peeled shrimp, a small chunk of squid or a glass minnow onto a Mustad Yellowtail Jig Head. Typical sizing is 1/16- to 1/8-ounce, depending on current and wind.
"The chum gets the fish up higher and funnels them behind the boat," Carlson said. "You want to drift the bait so they match the current, so you free line it with the bail open until the line starts flying off the reel, then you close the bail and start reeling."
In addition to varying the jig size, Carlson may also bump up his tackle to medium heavy spinning outfits and heavier leader if sharks, barracuda and/or porpoises are eating is hooked snapper. The tradeoff is fewer bites, but a better chance of getting fish to the boat.
Mangrove
Also known as "gray snapper," mangrove typically hold lower in the water column, below the yellowtail, but they still respond aggressively to chumming. Carlson tempts these fish with cut ballyhoo or chunks of fresh pinfish rigged on a 3/8- to 1/2-ounce Mustad Shrimp Jig.
"I'll drop straight to the bottom, with my reel open," he said. "I let them hit the bait and when I feel them run, I shut the bail and reel."
Carlson uses the same tackle as he does for yellowtail, but he'll increase his leader to 30-pound because of proximity to structure and the fact that mangroves are less leader shy than yellowtail. Also, he tends to hook a lot of grouper this way, so beefed-up tackle helps him turn heftier fish.
Mutton
Often hugging the reef more than the other two snappers, muttons grow the biggest, so medium-heavy spinning outfits and 30- to 40-pound fluorocarbon leaders are standard. Carlson rigs with 1/2- to 1-ounce Mustad Shrimp Jigs, depending on depth and current, and feeds muttons an irresistible offering — fresh ballyhoo that also gather in his chum slick.
"You can cast net ballyhoo, catch them on Mustad sabiki rigs or on a Mustad hair hook (Carlisle) with a piece of peeled shrimp and a small float," Carlson said. "You cast the rig past the ballyhoo and reel it slowly into them. When one bites, you reel fast to bring him in."
Option: If you have trouble catching live ballyhoo, frozen baits will work. To enhance the presentation, Carlson suggests butterflying the bait by cutting open both flanks from the tail to just under the gills, leaving each side intact and removing the backbone.
As for table fare, Carlson said mangrove snapper offer a happy median for quality and filet size. Any day of the week, however, each of these species is well worth the effort.