Florida Keys 1-2 Punch
A snapshot of how Captain Jack Carlson targets the dynamic duo of Florida Keys.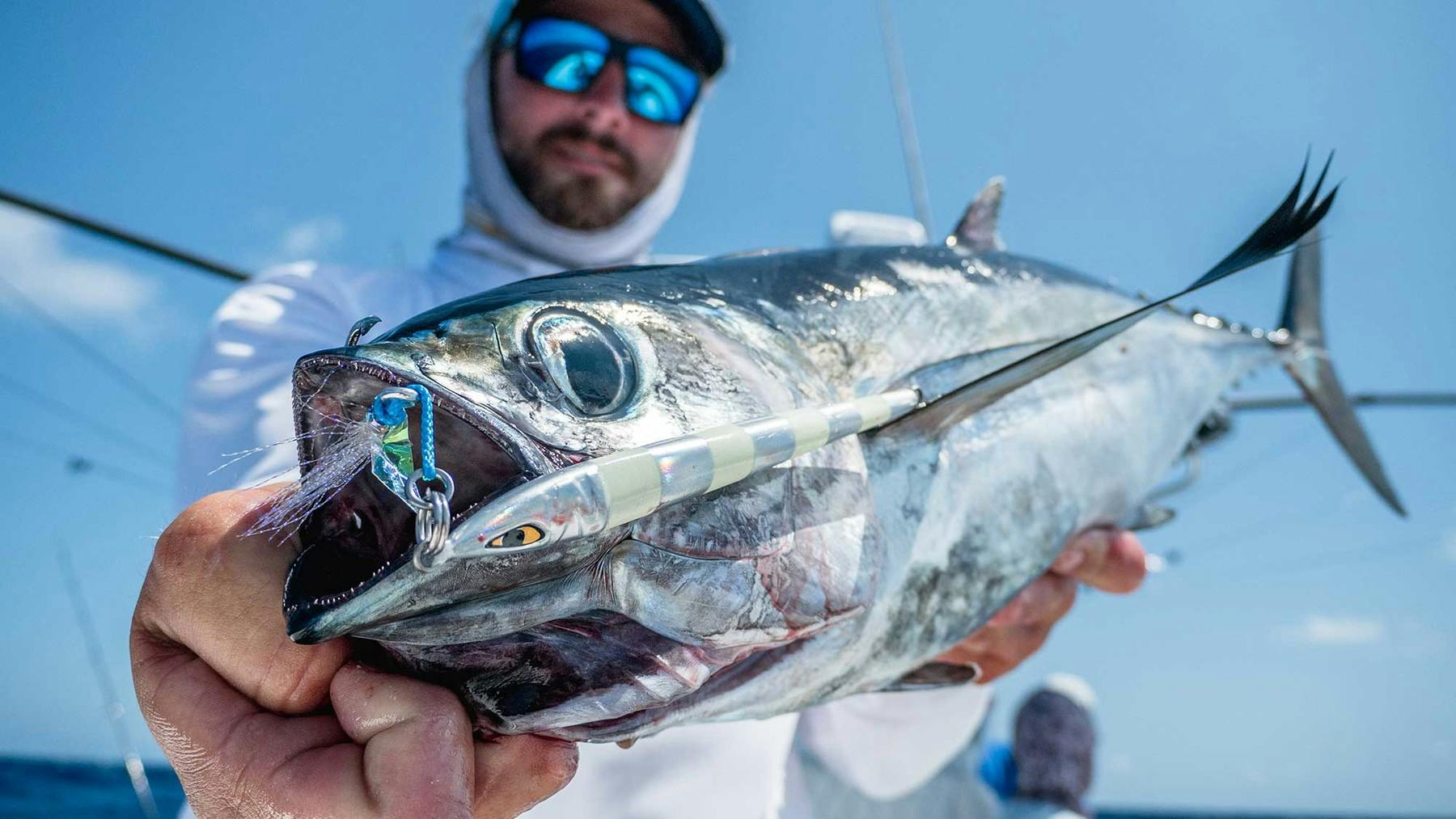 The Florida Keys present one the world's most diverse and bountiful fisheries and Capt. Jack Carlson of Marathon-based Two Conchs Fishing Charters knows that spring-early summer brings incredible opportunity for offshore anglers. Targets are many, but topping Captain Carlson's list are two of the sea's most prized species — blackfin tuna and dolphin.
Tuna
Carlson starts is day by netting fresh pilchards (scaled sardines), which serve double duty as as live bait and chum. Tuna won't miss an easy feeding opportunity, so once he's positioned on a promising spot, like the Marathon Hump, he'll seed the area with a couple handfuls of perky pilchards. While the chummers are spreading throughout the water column, he'll deploy several flat lines with baits rigged on 5/0 Mustad 9174 live bait hooks.
Complementing the natural bait approach, Carlson will put is anglers to work with Mustad's Zippy and Moonriser jigs. The former's slow, fluttering fall mimics wounded prey and requires minimal action, so it's ideal for kids and beginning anglers.
The Moonriser is just the opposite; it's long, slender profile offers minimal water resistance for a quick fall into deeper abodes. Vertically jigging this bait with aggressively erratic motion is the key to tempting tuna.
Carlson describes the ideal jigging action: "Pretend your setting the hook and reel, set the hook and reel, set the hook and reel."
This is, no doubt, a strenuous presentation better suited for experienced and physically fit anglers. As Carlson notes, multiple anglers can take turns on the vertical jigging so no one gets exhausted and you can keep both jig styles working in the water column.
In his experience, Carlson finds that pelagics like tuna are drawn more to shapes and action than color. That said, he finds blue, purple and silver his most consistent options.
Dolphin
These colorful and acrobatic fish can appear just about anywhere at anytime, but they're commonly drawn to flotsam, which harbors the baitfish they seek. Knowing this, Carlson treats floating pallets or debris as potential dolphin magnets by jigging the immediate area with a 1/2- to 2-ounce Mustad Big Eye Bucktail jig to raise the fish for natural baiting.
Pilchards presented on a 5/0 Mustad 9174 live bait hook are hard to beat, but Carlson won't hesitate to offer beefier meals. He's particularly fond of the small jacks caught from under weed lines.
"If you find a  weed line, take a No. 4 Mustad sabiki rig and catch a bunch of fresh jacks," Carlson said. "That way, you're using what the dolphin are looking for and you're really matching the hatch."
Cut bait works, too, and Carlson has two main techniques:
Dead Ballyhoo: Break off the beak and cut the ballyhoo in half with a diagonal slice to release a vigorous scent trail that attracts nearby dolphin. Carlson chunks one of the halves for schoolie dolphin and rigs the other half on a 5/0 Mustad 3407 J hook for a casting/skipping presentation that mimics a flying fish.
"When I'm dolphin fishing, I'm going to assume big," Carlson said. "You might catch a big dolphin on a smaller bait, but I don't want a 30-pounder turning away because he's not interested."
Squid: The same big-fish thought applies here, so Carlson presents a full squid with a 5/0 Mustad 3407 J hook set right through the tip. Carlson buys the 3-pound box of frozen squid, as these are typically the medium size baits (6-inch average) he prefers.
While he has dolphin in the area, Carlson will task one of his anglers with casting and retrieving a bucktail. Fast, erratic action, he said, is the key to fooling one of the sea's tastiest fish.