KVD Swimbait Mods
Kevin VanDam weighs in on his favorite set-ups with swimbaits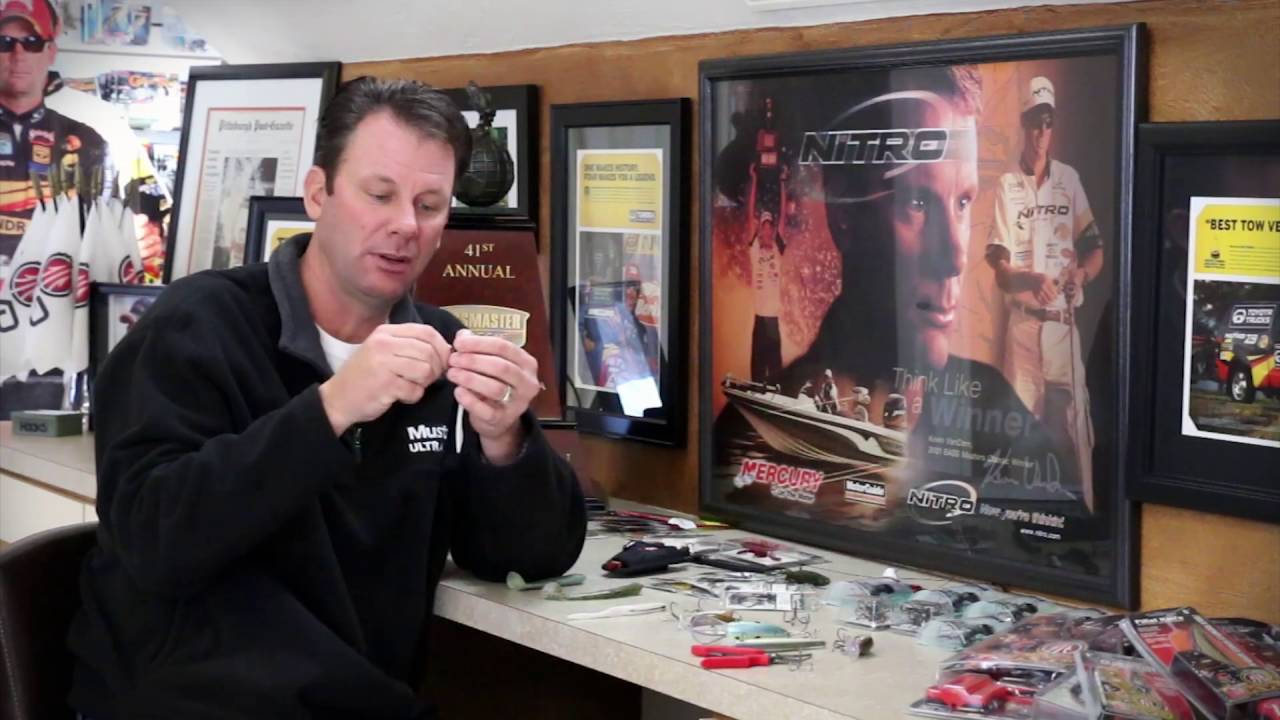 For a diversity of depth and habitat options, savvy anglers like Mustad pro Kevin VanDam know well the value of keeping a soft plastic swimbait handy. An excellent choice for covering water and triggering key reaction bite, this bait fits on a weighted head or a wide gap hook. Both work, but for maximum performance, VanDam opts for the latter — particularly, the Mustad Power Lock Plus Spring Keeper Weighted Hook.
"This belly-weighted hook, in different sizes, gives me all the options for any different size swimbait"
- Kevin VanDam
"Anything from the 2.75-inch Strike King Rage Swimmer all the way up to the 5-inch Shadalicious, if you need a weedless swimbait rigging style, that hook is hard to beat," says Kevin VanDam
VanDam points to a couple of key features. First, the spring keeper offers a reliable system for quick and precise rigging with a straight, secure alignment every time. Moreover, the unique Adjustable Weight System, allows you to instantly alter the bait's running depth.
"You can slide the weight towards the nose and make the same bait run deeper, or you can slide the weight back and that adds more wobble to your swimbait and makes your swimbait ride higher in the water column," VanDam said.
"That's one of the things I really like about this hook — the ability to adjust on the fly without having to retie.
- Kevin VanDam
"You can use lighter or heavier, but the biggest thing is that the way that adjustable weight is designed you can just slide it, pinch it with a pair of pliers and it will hold it in that particular spot."
For a tactical example of a nose-forward weighting, VanDam says this: "A lot of times, I'm fishing these baits in grass and other vegetation. If the grass is down a little deeper, sliding the weight toward the nose allows you to reel the bait faster."
Comparing the Mustad Power Lock Plus Spring Keeper Weighted Hook to an open hook swimbait head, VanDam said the benefit goes far beyond the weedless nature.
"It really makes the swimbait swim super well, just because it balances your bait with the weight below it," he said. "Compared to a jig head where the weight's in the nose and it may want to turn a little or roll at faster retrieves; I can buzz this thing right over the eel grass on the St. Johns River and with a light weight, it will keep that swimbait balanced.
"You have to be prepared for all scenarios. Swimbaits are a mainstay for your tackle box"
- Kevin VanDam
"You can fish it just like a buzzbait. I've caught a lot of big fish down there doing that. I'll throw the 4.75 Rage Swimmer on a 5/0 or 6/0 hook with a 1/16-ounce weight slid back and that bait will ride right on top."
So when's the best time to fish a swimbait? VanDam said it used to be considered a springtime bait, but now the door's wide open.
"If I need a natural presentation in heavy vegetation, I'll use a lot of bluegill patterns; and when the bass start getting on shad in the fall, that' another good time," he said. "The swimbait is a year-round bait for me; winter, spring, summer, fall, there are always a bunch of them in my boat, I carry a full array of the sizes and weights of the swimbait hooks so I have multiple rigging options.