Top 3 Flipping Targets and How to Master Them
The flipping master's guide to flipping lily pad clusters, cypress trees and boat docks.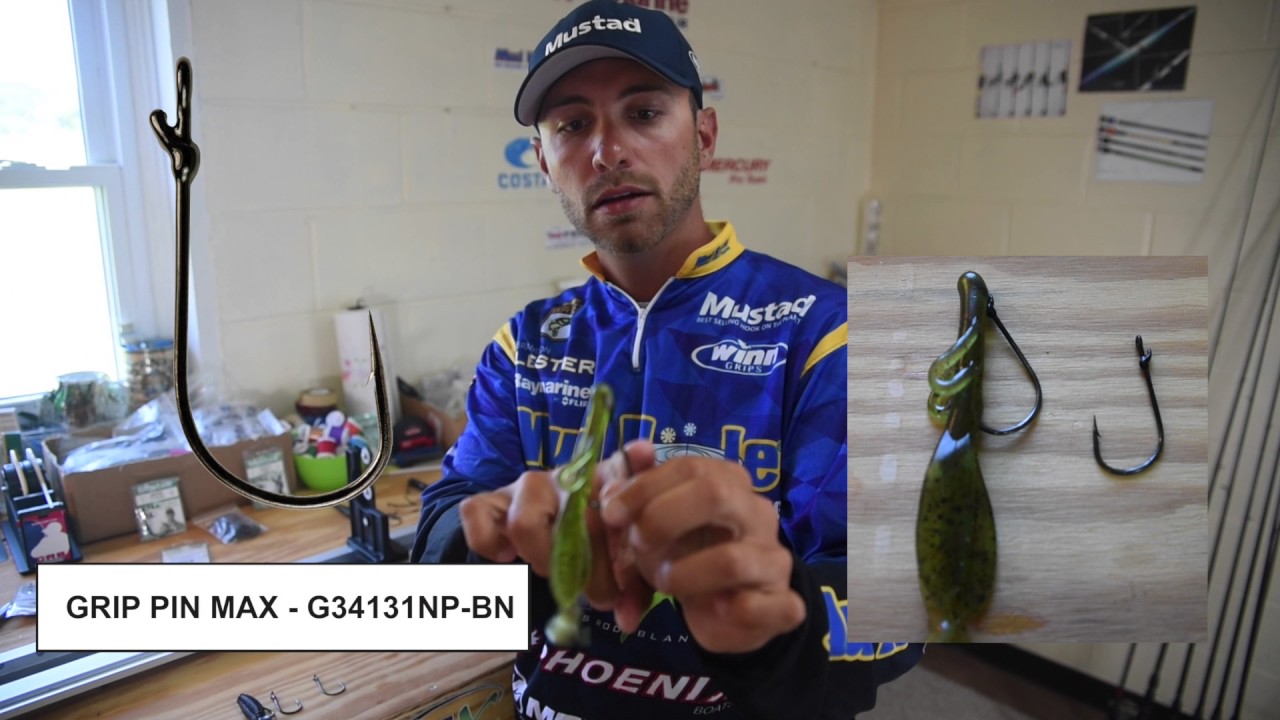 Put a flipping stick in Jacob Powroznik's hand and the Bassmaster Elite pro from Virginia's a happy man. Of course, like all specialties, J-Pow's strength takes many forms, depending on what he's trying to accomplish. We asked Powroznik for his top-3 flipping targets and here's how he broke it down for us.
1. Lily Pad Clusters
On his James River home waters, as well as the Potomac and others, Powroznik likes a V&M J-Bug on a 4/0-5/0 Mustad Denny Brauer flipping hook for fish spawning in this cover. The bait's efficient presentation is what he appreciates here.
"It falls straight where you flip it on a slack line," Powroznik said. "I don't care what size sinker you have it on, it will fall exactly where you flip it, with those little legs kicking.
"The hook size depends on the line I'm using. If I have to fish 15-pound fluorocarbon, it would be a 4/0; if I go up to 20- to 30-pound, it'll be a 5/0. If I'm using braid, it will be the Mustad Grip Pin Max 3X Flipping Hook."
2. Cypress Trees
Throughout much of the southeast, dense swamps with these towering, moss-strewn trees present more targets than he can fish in a day; but Powroznik hits as many as he can with V&M J-Mag worm on the Mustad Denny Brauer Grip Pin Max Flipping Hook with 30-pound braid.
"Here, I'd use a 3/0 hook because I can jam it through their mouth without a lot of power on the hook set," Powroznik said.
3. Boat Docks
For these man-made structures, Powroznik's going back to the J-Bug because the bait's ability to descend on a straight course makes it an effective choice for tracing down those pilings. This tight course keeps the bait in the strike zone for bass looking for bluegill hovering near the structure.
If those docks are in muddy water, those fish don't care; the bait's falling right there to their face.
- Jacob Powroznik
He may use anything from 15- to 30-pound fluorocarbon, depending on water clarity, time of year, etc. and, again, that Mustad Denny Brauer Grip Pin Max Flipping Hook gets the call. One note here, is that when water conditions allow, Powroznik will beef up his line choice to braid.
Presentation Tips
For maximum flipping effectiveness, Powroznik stresses the importance of adjusting your presentation speed. If he's targeting spawners — regardless of whether or not he can see the fish — he'll slow it down so the bait becomes intrusive and annoying.
"Around the cypress trees, consider the shadow line," Powroznik said. "If it's really cold out, they're going to be on the sunny side. If it's warmer and they're done spawning, they'll be sitting in that shade.
For dock fishing, Powroznik suggests moderating the anxiety of backlashes with this calming thought: "Fish from whatever distance you can fish comfortably. I never flip; I always pitch, but everybody has their preference. They don't care how a bait comes in there, as long as they can see it."